Cancer Drug Development in the Era of Precision Medicine
Dr. William Pao presents a patient advocacy webinar on the history of lung cancer treatments. This overview of lung cancer drug development in the era of precision medicine includes how genomic testing, targeted therapies, immunotherapy, and acquired drug resistance are shaping the development of new drugs. The presentation is followed by a Q and A session moderated by Janet Freeman-Daily.
Target Audience
This presentation is part of the IASLC STARS (Supportive Training for Advocates on Research and Science) program for Patient Research Advocates and is open to anyone interested in these topics, or anyone whose life is impacted by lung cancer.
Learning Objectives
At the end of this activity learners will have:
gained knowledge about the history of precision medicine related to lung cancer
increased their confidence in discussing precision medicine with the lung cancer community
Faculty and Moderator Disclosures
William Pao, MD discloses he is an employee of Roche and has ownership/stock interest in Roche. The rights to EGFR T790M testing were licensed by MSKCC on his behalf and others.
Janet Freeman-Daily, MS, Eng discloses she receives travel expenses from STAT News and Turning Point Therapeutics and is on an advisory board for Genentech.
Planners and Reviewers Disclosures
Kristin Ito has no financial relationships to disclose.
Kirsten Black, PhD, MPH has no financial relationships to disclose.
Aubrey Shoe, MA has no financial relationships to disclose.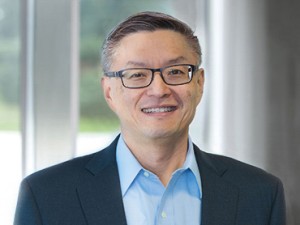 Presenter: William Pao, MD, PhD
Head of Pharma Research and Early Development (pRED)
 
William Pao became the Head of pRED on Apr 2, 2018.  He joined Roche on May 1, 2014, as Head of the Oncology Discovery and Translational Area (DTA). Prior to this, he was Professor of Medicine, Cancer Biology, and Pathology at Vanderbilt University in Nashville, Tennessee. He was also the Director of the Division of Hematology/Oncology and Director of Personalized Cancer Medicine at Vanderbilt-Ingram Cancer Center, and a practicing medical oncologist. During this and his time at Memorial Sloan-Kettering Cancer Center (MSKCC), his group identified new mechanisms of sensitivity and resistance of lung cancers to EGFR tyrosine kinase inhibitors, found novel targets for therapy in multiple malignancies, and developed new anti-cancer therapies. William was a pioneer in establishing multiplexed mutational profiling of tumors for routine clinical practice. He also co-founded MyCancerGenome, an award winning freely available online tool designed to enable a genetically-informed approach to cancer medicine.
 
William received his undergraduate degree (AB) from Harvard College, where he majored in East Asian Studies. He received his MD and PhD degrees from Yale University. He performed his Internal Medicine internship and residency at New York-Presbyterian Hospital/Weill-Cornell Campus, followed by a medical oncology fellowship at MSKCC in New York. He is currently an Adjunct Professor of Medicine at Vanderbilt. He was inducted into the American Society for Clinical Investigation in 2011, and the Association of American Physicians in 2017.
Moderator: Janet Freeman-Daily, MS, Eng
Lung cancer patient and research advocate
Janet Freeman-Daily, MS, Eng, is a retired aerospace systems engineer (trained at MIT and Caltech), freelance writer, speaker, and metastatic lung cancer patient/activist. She was diagnosed with advanced non-small cell lung cancer in May 2011, and progressed to stage 4 despite two lines of chemo-radiation. Fortunately, she learned about biomarker testing and clinical trials from other patients in online lung cancer communities. Thanks to a targeted therapy clinical trial, she has had no sign of cancer on scans since January 2013. Her focus is now on translating the experience and science of cancer for others. She writes an award-winning blog, cofounded and co-manages The ROS1ders, serves on staff for the IASLC STARS program, collaborates with lung cancer patient and advocacy organizations, and speaks as a research advocate at international oncology conferences, cancer research centers, biomedical and pharmaceutical companies, and government agencies. Her advocacy work focuses on ROS1 cancer, lung cancer, patient-centered outcomes, modernizing clinical trials, access to biomarker testing, data sharing, shared decision making, and goals of care.